Last week was a busy week for members of the WLCF team. We were invited to the sixth ECN Crowdfunding Convention in Vilnius, Lithuania, and the third CrowdConference in Minsk, Belarus. Daniel Rajkumar, founder and CEO of the two companies, represented the companies at the event, accompanied by Kylie Greeff, our Legal and Compliance Manager.
ECN Crowdfunding Convention in Vilnius, Lithuania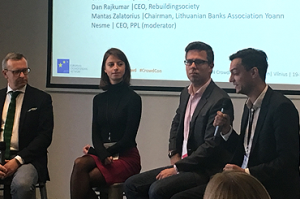 The conference centred on the rise of new technologies for accessing finance, and featured presentations and panels from members of the international financial community.
Daniel was invited to take part in a panel on the topic: How are the banks and traditional financial actors reacting to a new paradigm of online access to finance? On the panel alongside Daniel were Jekaterina Govina, Counsellor to the Board of the Bank of Lithuania; Lasse Maekela, CEO of Invesdor; Mantas Zalatorius, Chairman of the Lithuanian Banks Association; and Yoann Nesme of PPL, a Portuguese rewards-based crowdfunding platform.
Daniel explained that banks in the UK have been obliged to collaborate with P2P platforms through the Business Referral Scheme. He commented that this program is widely considered to be ineffective, not only in terms of helping businesses find the right type of finance when rejected by the banks; but also in that the platforms by and large do not get access to the cream of the crop.  The sentiment exists that the banks want to be seen to be new and customer friendly, but have not actually moved very far beyond a degree of marketing and PR spin.
The panel went on to discuss the upcoming release of the Payment Services Directive (PSD2) Regulations in early 2018. Daniel and Mantas Zalatorius agreed that this is something the banks will have to get used to, and adapt to. "PSD2 will take away the advantage that the banks have had over FinTechs for so long," commented Dan. "The live data will help more crowdfunding companies apply more intricate risk analysis models and implement better risk monitoring, and also allow these platforms and the consumers lending through them to better price the risk," he concluded.
CrowdConference in Minsk, Belarus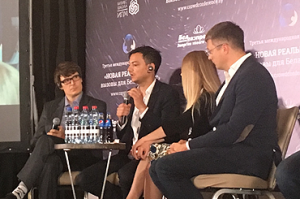 Crowdfunding in Belarus is growing fast, but is arguably a few years behind that of the more mature European market members. Currently, crowdfunding in Belarus is largely limited to reward-based crowdfunding, and its development appears to be closely linked to the development of the same market in Russia.
The CrowdConference was a dynamic, well-attended event, attended by a broad range of international entrepreneurs, government delegates, academics and traditional financiers. Day one of the conference focused on the current hot topics of AI, Big Data and Blockchain in FinTech, and day two concentrated on The Crowd Economy.
The enthusiasm and engagement of the delegates and speakers at the CrowdConference bodes well for the future of the Belarussian crowdfunding industry. Daniel commented: "I am looking forward to working closely with a number of the contacts we made at the event. We hope to further grow our network of platforms and international partners, and develop new features that will continue to give our clients a leading edge when setting up their own platform."