Meet Tesco BackIt. This new initiative, launched just a few months ago by the multinational supermarket chain, is designed to give small businesses in the food and beverage industry the opportunity to raise funds through crowdfunding via a portal on their website.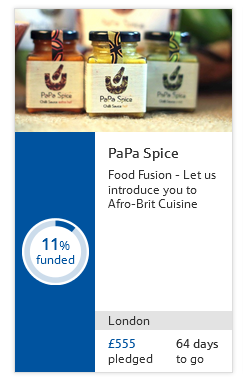 Tesco is implementing a popular form of crowdfunding; the donations and rewards model that has been employed by start-ups and non-profit organisations alike, to kick-start campaigns. Donors are offered a reward, organised by the business in question, in return for a donation.
The team behind Tesco BackIt encourages users to browse the product campaigns online, choose their favourite, donate, and then receive a reward when the target is reached.
Each of the companies requesting a loan has a profile page that details what they do, why they're crowdfunding, the rewards they're offering and any potential risks involved. Recent successful campaigns that have been fully funded include TG Green Teas, B-Tempted gluten-free cakes and Drunken Berries Prosecco Mixers – which received a record 220% of the requested funding.
Tesco has pledged to support each backed business, offering "advice and mentoring from industry experts". The idea seems to be a win-win. Tesco is gaining positive publicity in the press, and raising their profile as a philanthropic business dedicated to supporting others; while small businesses are being offered the opportunity to raise both funds and their profile.
BackIt is a sign of how far crowdfunding has come; from the early days of small projects funding conservative ideas, to this: a world-renowned, multinational leader of the F&B industry launching an initiative to support small businesses. Crowdfunding was also the base of a recent task on popular TV series The Apprentice, when contestants were challenged to launch a product via crowdfunding.
Has Tesco's story inspired you? Whether you're considering launching a platform based on donation and rewards, peer-to-peer lending or equity, we're here to share our expertise with you. Read more about the services we offer on our website, and feel free to get in touch at hello@whitelabelcrowd.fund or on 0207 193 0441.