Nick is our Business Development Manager, based in our Leeds office. An approachable and knowledgeable professional, Nick is in constant contact with prospective clients, explaining what WLCF can offer them, answering their questions and ensuring they have the knowledge necessary to advance with their projects.
We asked him to tell us a bit more about his role, the questions he's asked on a daily basis, and what he enjoys about his job.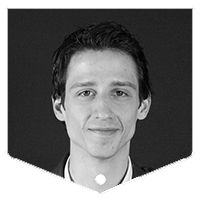 Nick, thank you for taking the time to talk to us today.
You're very welcome.
How long have you worked for White Label Crowdfunding?
I've been with WLCF for around two and a half years now. I originally joined rebuildingsociety, before transitioning to my current role.
What does your current role entail?
My role centres around pre-sales consultation more than anything. I work with our newest leads to help them understand more about the capabilities and possibilities that can be achieved with our technology, guiding them through the sales process and helping them to define and refine their platforms – ultimately I try to help them make the best decision in terms of choosing a technology partner.
I'm a new potential customer looking for a peer-to-peer lending platform, what can WLCF offer me?
Experience-based knowledge and a team of dedicated individuals. We have a unique position within the market owing to our experience with launching and operating rebuildingsociety.com. The majority of our technology development has come from practical experience of what platform operators need and the challenges they will face; rather than just a theoretical idea. This means that we are well-positioned to help navigate the processes and procedures involved with launching and growing a P2P platform, and can pass on valuable lessons and offer support to our clients that is based on real-life experience. We've also got a piece of pioneering technology that can be tailored to suit our client's unique requirements; rather than forcing customers to adapt their ideas to our technology.
What are the most common questions you're asked by new clients? How do you answer them?
Aside from the obvious questions of cost and timescale, I'm often asked what clients can expect during the first few months of trading, what additional aspects need to be considered beyond just building the technology, how best to assemble an operations team and which key roles are really required for that. I'm able to draw on my experience of working for rebuildingsociety and the challenges we've faced there to answer a lot of those questions. We've also put together a detailed process flow document to highlight the various considerations and questions that need to be answered, and more importantly at which stage in the process these should be tackled.
Once a potential client has shown interest in working with WLCF, how do you proceed?
The first step is to schedule an introductory phone call; I find it's always beneficial for both sides to start a dialogue, as it helps me to build a picture of what the client is looking to achieve and from there I can set about providing the required information. Once I have a better understanding of their plans, it's much easier to provide specific, accurate information in terms of costs, capabilities and timescales. Once both sides are up to speed things, start to get a little more exciting! We get into live demonstrations of the technology and really start drilling down into detail; that's the point when ideas start coming to life and the clients can really see the end result forming.
What has been the most challenging platform that you've worked on?
We're currently building a platform which centres around bond-based lending. The clients have some very original ideas, meaning that there was less of a template to follow. We've really had to think outside of the box and challenge ourselves to work out how to make the platform work to the clients' specification. Thankfully we've achieved the desired result and I think it's going to break the mould when it launches!
What do you like best about your job?
Well, apart from the wonderful people I work with, the thing I enjoy the most is probably the constant variety. No single day, client or platform is ever the same, which keeps you on your toes! I also enjoy the interaction with our clients – because we're working on a global scale, I'm fortunate enough to meet some really interesting people from completely varied backgrounds. It often means I end up learning as much from them as they do from me – if not more.
Would you like to chat to Nick about launching your own platform? Get in touch with him now on 0207 193 0441 or email him at hello@whitelabelcrowd.fund.