The FinTech North event will be taking place soon, and the teams at White Label Crowdfunding and Whitecap Consulting are finalising the details of what promises to be one of the highlights of the 2017 FinTech calendar. We announced and introduced the event on this very blog a couple of months ago, and we will continue to share news and updates with you as we lead up to the event.
Over the coming months, we will announce and introduce you to some of the event's speakers and sponsors, in preparation for the second edition of the one-day showcase conference that forms part of this year's Leeds Digital Festival week.
Let's take a look at some of the big announcements from this week so far…
Dr. Chris Sier to chair the event
FinTech North 2017 will be chaired by Dr. Chris Sier, the government's FinTech Envoy for the North of England. An active member of the Leeds community, Chris is also a Director of FiNexus, where he works to connect financial services, academia and technology vendors across the UK; conducts research on the systemic issues facing the financial services industry; and promotes and manages challenge-led innovation programmes, among other things. FiNexus is currently developing a programme to build a series of UK-based FinTech research and innovation centres to continue the country's position as a leader in FinTech innovation. The first of these will be based in Leeds.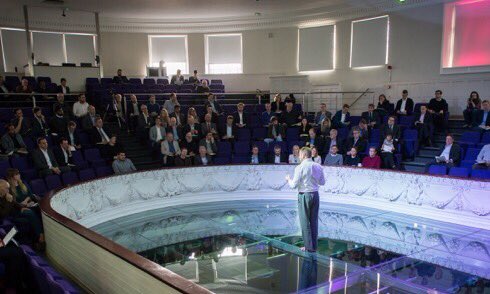 "Supporting an event like FinTech North is very important to the regional and national FinTech community. Leeds has the potential to become a leader in FinTech and a Global leader in excellence."
Dr Chris Sier, FinTech Envoy for North of England
FCA's Bob Ferguson will discuss the future of regulatory policy
We are delighted to confirm that Bob Ferguson from the FCA will participate in FinTech North, and plans to speak on the topic of regulatory policy and its future. Bob is the Head of Department for Project Innovate, the regulatory sandbox created in 2014 with the aim of encouraging innovation in the interests of consumers, as well as promoting competition through disruptive innovation that offers new services to customers and challenges existing business models.
Computershare will sponsor FinTech North
We are very pleased to announce that Computershare will sponsor the upcoming event. The global financial administration company has a presence in 21 countries with over 90 offices worldwide, where they work with individuals and businesses alike.

"

We're delighted to be supporting the FinTech North conference in 2017. Computershare prides itself on technology innovation and we continue to invest in a range of initiatives to improve and personalise customer experience in an industry that has been historically slow to adopt change. We have a strong operational footprint in Yorkshire and the North East and are proud to be established in a region that is gaining global recognition as a digital centre of excellence."
Andrew Jones, CEO of Computershare Loan Services
Stay tuned for most announcements in the upcoming weeks and visit the official event website for more information.
Look back at last year's event with our video, and secure your place before tickets run out.
If you're interested in sponsoring the event, please contact us at hello@whitelabelcrowd.fund.