Yesterday members of the financial technology industry in the north of England gathered at the soon-to-be-opened Platform in Leeds for a FinTech North Seminar. There were over 120 participants and attendees, all given a warm welcome by co-hosts FinTech North and Leeds City Council. The focus of the event was driving FinTech growth in the Leeds City Region.
FinTech North is a collaboration between White Label Crowdfunding and Whitecap Consulting, and this seminar followed on from the main FinTech North event, which took place in April this year. Julian Wells, Director of Whitecap Consulting, chaired the event, and introduced the morning's agenda. He introduced Councillor James Lewis, Deputy Leader and Executive Member for Resources and Strategy at Leeds City Council, who outlined economic development in the Leeds City Region, and confirmed the council's support for the development of the industry.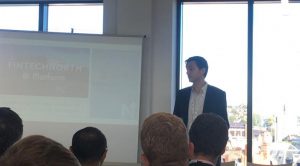 Julian and our own founder and Managing Director, Daniel Rajkumar, then gave attendees an overview of FinTech North, explaining how the concept began, what the last few years have involved, and what they hope the future will bring. This includes the upcoming FinTech Friday monthly sessions. Throughout the rest of the morning, others took to the floor to offer explanations and commentary on relevant topics.
Greg Michel of Tech City, an organisation that operates regionally under the Tech North banner, explained how FinTech is changing the way we interact with financial services. He also gave an overview of the FinTech For All competition, which is aimed at "FinTech start-ups that make financial services work for everybody."
"We want to work with FinTechs that help people in areas of saving for example. 16 million people in the UK have £500 or less in their account, 1 in 5 do not save for their pensions at all. Either by design or incentives, we want to help change this." More details about the competition can be found here.
A regional FinTech panel discussion followed. Individual introductions were preceded a question and answer session with audience participation. Discussion topics included regional infrastructure, artificial intelligence, connectivity and blockchain and cryptocurrency.
Leeds is a really collaborative city and we should be proud of that, it's great to see us building momentum.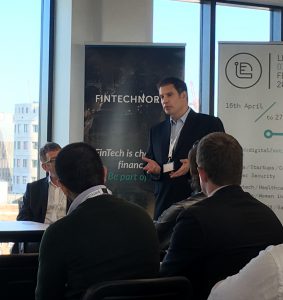 Stuart Clarke, Media City & Organiser for Leeds Digital Festival
Two thirds of people working in FS are based outside of London and there are 850,000 people in the Northern Powerhouse working in financial and professional services.
Jeremy Coupland, Specialist Financial Services, DIT
We have adapted to use freelance developers all over the world. Work gets picked up and worked on through the night by our agent in the Philippines. Technology has allowed this, so I think there are more resources than we think that can support international business.
Daniel Rajkumar
I'm passionate about developing skills and diversity in the digital economy, and particularly within FinTech.
Sarah Tulip, COO, aql
Although we have fantastic businesses in the north, we've not always been great at shouting about it and connecting. Now, we've got an ecosystem where the north of England has an increasing concentration of certain skills and businesses, including in our sector which is lending software. It's a fantastic ecosystem that is growing as we carry on evolving and innovating.
Richard Carter, MD, Equiniti Credit Services.
Closing comments from Graham Ponton of Leeds City Council brought the event to an end. Julian Wells closed the event by asking attendees to provide feedback for FinTech North moving forward on what they would like to see from a collaborative network in the Leeds region. Regulation, PSD2, GDPR and Blockchain were mentioned as potential future topics. If you would like to provide any thoughts, please contact us.
Thank you to all those who attended, and those who formed part of the speaker and discussion panels. We look forward to seeing everyone again at future FinTech North events.