On Friday 10th November, 74 people representing northern FinTech companies attended the 2nd monthly FinTech North Seminar, this month sponsored and hosted by law firm, Ward Hadaway in their Leeds offices.
Simon Brereton, Head of Innovation and Sector Development at Leeds City Council, was first up to speak. He gave an overview of the Leeds FinTech scene, and highlighted how the council is supporting the sector, playing an active role in its development.
The morning featured two keynote speakers: Henri Murison, CEO of the Northern Powerhouse Partnership, and Dr. Iain Clacher, Associate Professor Accounting and Finance at Leeds University Business School. Both speakers are big advocates and supporters of northern businesses, and have a particular interest in FinTech companies based in the region.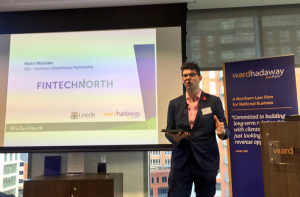 Henri Murison – Northern Powerhouse Partnership
Addressing the audience first, Henri spoke about the role and responsibility tech businesses have to ensure the growth of industry in the north of England, particularly as many jobs are likely to be lost due to the advances in technology, especially within the finance industry. Henri went on to highlight how northern cities such as Leeds, Manchester and Newcastle, where the cost of running a business is considerably lower than in London or some other cities, are ideally suited to hosting large financial service and tech businesses. This has been demonstrated with the relocation of SkyBet to Leeds and Hiscox to York. In closing, Henri warned against northern cities selling themselves short by isolating themselves from their northern neighbours; instead advocating these cities working together as a region to drive the progress of industry in the north.
"The northern FinTech community can be at the forefront of what financial and professional services should and will look like in the wider, future economy".
Dr. Iain Clacher – University of Leeds Business School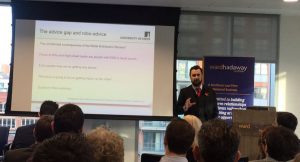 Dr. Iain Clacher followed Henri with his presentation, headed "Robo-Advisors and the Things That Keep Me Awake At Night." Dr Clacher started off his address by highlighting how George Osborne's pension tax bill that will give people the flexibility to draw down their pensions early could have a detrimental effect on the future economy and wellbeing of pensioners.
Dr. Clacher showed some research on the reasons why many people dip into their pensions. This research states that two of the top reasons are to go on holiday or buy a new car. Using the well-known Marshmallow Experiment as an example, he highlighted how the knowledge of being able to access one's pension early would be too big a temptation for many to resist, and will change the way in which many people view their pension, from a source of income to a future windfall.
Dr. Clacher shocked the audience with the fact that the average person in the UK spends five days researching what car they want to purchase, and only three to four hours on researching how best to use or spend their pension. Exaggerating this problem is the fact that approximately 80% of the population cannot access good financial advice, due to the various client onboarding restrictions that many IFAs have, particularly with regards to the amount of liquid capital often required, which is often in excess of £50,000.
Following on from the way in which people will use their pensions, Dr. Clacher moved on to highlight how people's treatment of their pensions, combined with the considerable gap in advice available to most, might be exacerbated by the increasing reliance on robo-advice, which is seen as an ever-more acceptable solution to bridging the gap in advice.
Dr. Clacher asserted that the assumptions that financial service institutions make about individuals, to be used in developing the algorithms for robo-advisors, are far too basic to be able to adequately advise individuals on the best decisions.
He asked what happens when an algorithm gets a decision wrong and ruins someone's financial wellbeing? An algorithm can't be sued like a bank or IFA can, so how are we going to protect consumers? To highlight how financial services companies might try and absolve themselves from this responsibility, he referenced the Smith & Wesson defence, whereby one cannot sue the gun manufacturer for someone's death by their weapons. He went on to also highlight that a similar trend is happening in the manufacture of automated vehicles, and believes that the same will follow in the FS industry.
Dr. Clacher left the audience with this thought, and appealed to FinTech businesses to think about these issues when developing their new services and products. He hopes that solutions to these issues might be created through greater collaboration between universities and industry, and that this collaboration can be fostered through event such as those hosted by Fintech North. He invited interested parties to attend the Democratising Finance Event on 4th December hosted by the University of Leeds.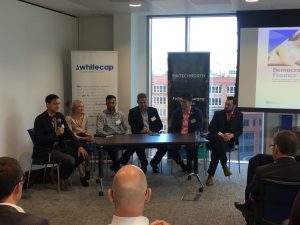 Following this address, the audience were invited to ask questions of the panel which comprised both of the keynote speakers, as well as some representatives of northern FinTech companies. Panelists Haaris Ahmed, Founder of Uown, Simon Bererton of Leeds City Council, Helen Oldham, Founding Director of North Invest, Stefan Haase, Director of Whitecap Consulting and our own Daniel Rajkumar of rebuildingsociety.com and White Label Crowdfunding.
The next FinTech North event will take place on the 8th December at Platform Leeds, and will be sponsored by Leeds City Council. It will focus on new innovations in FinTech, specifically AI, Crypto Currency and Innovative Finance ISA products. Registrations are now open for the event. Register here.