The third and final FinTech Friday event of 2017 was held on 8th December at Platform in Leeds, sponsored by Leeds City Council. This month's event, which focused on FinTech innovation, was well attended, by regular attendees and newcomers alike.
Following an opportunity for breakfast and networking were the keynote speeches. First up was Philip Pawson, of Alchemy. Philip spoke about innovations concerning the Innovative Finance ISA (IFISA), including the potential tax benefits for business directors who currently financially support their business through director loans. You can read more about the rebuildingsociety.com IFISA here.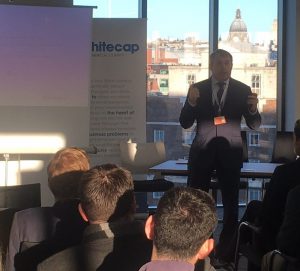 Following Philip was Mark Lumley, partner at Shulmans Solicitors, who spoke about cryptocurrencies and Initial Coin Offerings (ICOs), under the title "ICO the new IPO?". Given the current news, media attention and growing public awareness of cryptocurrencies, there was a lot of interest in Mark's presentation.
"Bitcoin is now the 6th biggest currency on earth."
A show of hands reflected a relatively inexperienced audience; only four or five people in the room had traded any cryptocurrency. Mark strongly advised the audience to set aside some time of the own to learn about it further, stating his belief that "in 10 years' time the majority of the world's currencies will be cryptocurrencies of one form or another."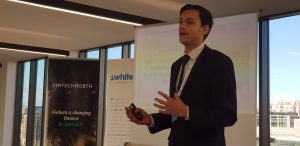 Next to address the audience was our founder and Managing Director, Daniel Rajkumar. Daniel spoke about SME acquisitions, looking at how more business acquisitions need to be supported through vendor participation and how they can be facilitated and better structured through peer-to-business lending platforms. He also spoke about his experience of acquiring SMEs and some of the challenges he has encountered during the process.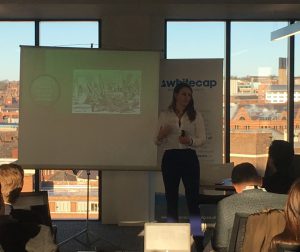 Kylie Greeff, our Legal and Operations Manager, then spoke about "Balancing Innovation and Regulation in FinTech." After highlighting the size of the FinTech industry, Kylie emphasised the importance of effective collaboration between the industry and the regulator.
"FinTech is challenging regulators all over the world. Fortunately, the UK regulators have been supportive of FinTech developments so far."
She commented that this would allow for those involved to better develop an environment of strong financial services innovations, supported by regulation.
Kylie went on to explain that the UK regulator, the Financial Conduct Authority (FCA), are seen as a global leader in fostering innovation in financial services. "We're very fortunate in the UK to have a regulator that is not only supportive of innovation but also actively encourages it."
Talking about her experience of working in FinTech firms such as rebuildingsociety.com and White Label Crowdfunding during a period of significant innovation and regulatory involvement, Kylie said: "If there is ever a time to say it's exciting to work in compliance, it has to be now."
After the keynote speeches, the audience was invited to ask questions of the panel. Mark's address on ICOs was clearly still fresh in the minds of the audience, and the majority of the questions focused on cryptocurrencies, how they are valued and what alternative benefits cryptocurrencies and block chain could have on society as a whole.
The next FinTech North event will be held on the 12th January 2018 at the Open Data Institute in Leeds. Keep an eye on our blog for more information, coming soon!