On Friday 17th November, our Human Resources Manager, Carlota Montoro, gave a thought-provoking seminar on the topic of how to attract and retain talent in the technology industry. The event was aimed at entrepreneurs, and organised in collaboration with Madrid's local government.
Carlota, a Madrid native now living in the Spanish capital after several years in London, is a human resources expert with a Masters in Human Resources Management from the Chartered Institute of Personnel and Development. She is involved in every step of the recruitment process for WLCF, and works with members of our team on a daily basis to ensure smooth communication and collaboration.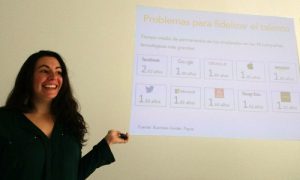 During Friday's interactive seminar, which took place in Vallecas, Carlota began by defining the term "talent". She then went on to give an overview of the current market, the factors that affect it, the range of median salaries offered worldwide, and the level of competition for various roles.
Carlota explained, to a captivated group of attendees, some of the challenges involved in finding and contracting technology industry experts, before discussing some of the most common reasons for employee movement. These included the offer of more appealing projects, better salaries and working conditions, as well as lack of professional growth, recognition or coherence with the original offer.
One of the most interesting slides included in Carlota's presentation showed the average time employees spend working at the 10 largest technology companies. It was surprising to see that the averages for two companies renowned for their focus on employee satisfaction, Facebook and Google, were 2.02 years and 1.90 years respectively.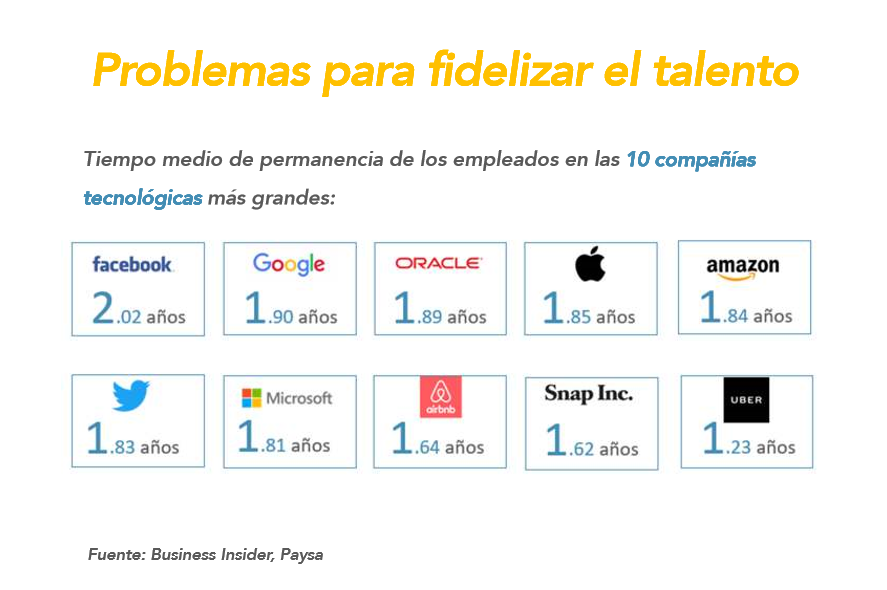 In the concluding part of the seminar, Carlota gave insight into the tools she uses to find and attract top talent and gave examples of some less-than-inspiring job adverts, before touching on the topic of employer branding and highlighting some of the differences between recruiting and retaining talent for SMEs and larger companies. She gave interesting insight into the pros and cons of contracting contacts, and gave some tips on how SMEs could implement some of the selling points that make larger companies stand out.
The event offered interesting perspectives and information on the topic of human resources within the industry. As new technology is developed, so new knowledge is needed, and new positions created. In an ever-evolving industry such as ours, it is vital that we work hard to both attract and retain talent.