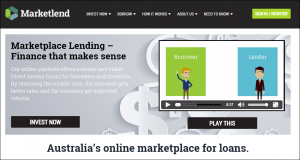 White Label Crowdfunding is pleased to announce the launch of Marketlend in Australia. Founder and Managing Director Leo Tyndall has been busy promoting the site (you can listen to an interview on his trading model here) and we're all optimistic it will be a huge success.
It's been a new type of platform for us to build and a new type of model for us to get our heads around, but one that clearly has a place in the business finance market and has been designed, very much with their needs in mind. Here are a few of its new features:
We've integrated the application process with a third party that assesses Marketlend applications
We've got secondary market functionality to allow investors to trade notes
Securitisation structure from inception, with insurance accompanying a loss protection fund to protect investors
For borrowers there are a range of loans to choose from to suit differing business needs, business loans or working capital loans and Marketlend also offers a service that takes care of credit control and paying suppliers on the business' behalf.
In Leo's words: "We don't go for SMEs that can't get credit, we target SMEs who need speed, transparent and lending from people who understand their business. Our typical SME will be one that is expanding, acquiring or in need of cash because of slow repayments on their invoices."
There are sure to be many businesses falling into Marketlend's target market.
For investors, it's all about getting solid returns in a protected environment. Marketlend is the first peer to peer lender to secure every loan in a securitized trust protected by an independent trustee, Australian Executors Trustee Limited.
Leo added: "We realised there are risks in peer- to -peer lending that can be mitigated, as banks do when seeking investors for their lending. So we replicated this structure to mitigate those risks and put our money first in line if there is any loss."
You can follow the Marketlend story on its website, or social media channels