Sara Parker is the UK Portfolio Director at payment systems company, VocaLink. An experienced business leader, Sara previously worked as Head of Product Development, Director of M&A Strategy, Head of ATM Services and Product Director within VocaLink, before taking on her current position.
Sara leads on strategy, change, delivery and people management. Over the course of her career at VocaLink, she has established a new business unit and developed innovative strategies, and demonstrates a strong track record of securing growth and controlling costs.
VocaLink has its headquarters in London, and processes over 90% of salaries and 70% of household bills in the United Kingdom. They believe that easy access to and movement of money lead to sustainable economies.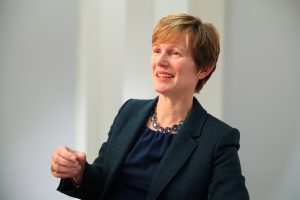 Sara will be at this month's FinTech North event to discuss the future of payments, and explain why it's something we should be talking about. She joins other prominent members of the FinTech field to examine, debate and analyse various aspects of financial technology during the one-day annual event.
We asked her some questions about her professional career, the payments sector, and her upcoming involvement in FinTech North.
Sara, thank you for talking to us today. Tell us a bit about VocaLink and what the company does.
VocaLink is the global payment partner to banks, corporates and governments. In the UK, it operates the infrastructure for the UK's Faster Payments system, BACS, Link, Paym and Pay by Bank app mobile payments systems, along with the UK's current account switching service. Every business and person in the UK benefits from our technology.

What does your role as UK Portfolio Director involve?
Delivery of change across all of the UK payments systems that VocaLink run. I work with our highly-experienced change professionals to ensure that the vast amount of change that we activate is delivered successfully.
You studied geography at university; how did you first come to work in the financial technology field?
It may seem like they're worlds apart, but actually the way I see it, Geography as a subject enables you to be curious about a wide range of issues across the UK and beyond. What I enjoyed most at university, and what I remain passionate about, is the development of economies and communities, particularly outside of London.
In terms of the journey to where I am now, in my last year at University, banks were recruiting into Computer Science-based graduate roles, and I was attracted by the buzz around this. Graduating from Durham at the time, I was drawn to some interesting opportunities in London, which is then where I headed to start my career.
What do you enjoy most about being part of this industry?
The people of course! And the variety of opportunities that it brings.
How would you explain the recent surge in FinTech activity over the last decade or two?
For me, it's all about real-time; consumer and business demand for immediate access to information and financial services. Real-time is the bedrock for economies to be able to digitise financial services and provides the platform upon which FinTechs and others can innovate.
What has been the most important recent advancement in terms of payment methods?
The fantastic part about being involved in payments is that innovation is at the top of everyone's agenda – from the smallest FinTech company to the largest financial institutions. The payments industry is developing at such a rate, it's hard to pick just one recent advancement. However, if pushed, I'd have to say real-time payments. At a time when everyone expects to be able to do everything in an instant, being able to send and receive payments in near real-time has now become an essential part of our day to day lives, thanks to Faster Payments in the UK.

Why did you decide to get involved with the FinTech North event?
As a leading FinTech business with a strong presence in the Yorkshire region, it was important for us to be present at FinTech North. We know that you don't always have to look far and wide for expertise and innovation – some of our best ideas are home-grown – and we are proud of our track record of nurturing an entrepreneurial workforce in the region through partnerships with local educational establishments.
Without giving too much away, what will your FinTech North presentation cover?
I will be focusing on the future of payments and why we should care about what that looks like. I don't want to go into any detail, but what I will say is that I will be discussing why we often don't care enough.