In yesterday's blog post, we looked at the speakers and sessions that took place in the morning of FinTech North. Here, we look back at the afternoon's activities, which focused on innovators and game changers within the industry.
Daniel Rajkumar, Founder & Managing Director of rebuildingsociety.com and White Label Crowdfunding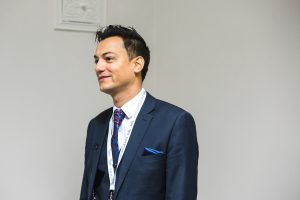 Daniel opened the afternoon session, as he took to the transparent floor to tell attendees about his journey with rebuildingsociety.com, as he took it from a concept to become an FCA-authorised peer-to-peer lending platform.
He explained some of the challenges he and his team faced, how they've overcome them, and how White Label Crowdfunding was born as a result. He expanded on some of the FCA-related topics concerning crowdfunding and peer-to-peer lending, and shared his enthusiasm for the industry with the audience.
Watch a live video of his speech on our Facebook page.
David Beardmore, Commercial Director, Open Data Institute
An interesting presentation by David Beardmore, of the Open Data Institute, followed Daniel's speech. The Open Data Institute inspires innovation, connects people around the world, and aims to promote and encourage the use of open data. David spoke about open data, explaining what data is open, and what isn't, and posing the question: how can we make it easier for consumers? He also asked the audience how long they had had the same bank account, and cited research that showed that over half the population of the UK has had the same bank account for 10 years or more; and a third for 20 years or more. An open banking initiative plans to make finding out which bank suits each individual easier.
Chris Gorst, Challenge Lead, Open Up Challenge
The Open Up Challenge is designed to inspire the creation of next-generation services, apps and tools, created for the UK's five million small businesses. Chris Gorst told FinTech North attendees more about the challenge, detailing the cash awards, sandbox access and technical and business support offered to winners. The idea is to support and encourage innovators dedicated to building next generation services focused on the needs of small businesses.
Open Banking Panel
After Chris Gorst's introduction to the Open Up Challenge, a panel which included Laura Bailey, CEO of Zerado, David Beardmore, Alex Letts, CEO of Ffrees and Mark Santall, Product Manager at Open Banking Limited, pondered whether open banking would form the future of small business banking. Alex Letts, for example, of Ffrees, a company which offers four types of current account designed to allow users to manage money and save, commented that he wants it to be easier to move bank accounts, and the others gave their opinions on related topics.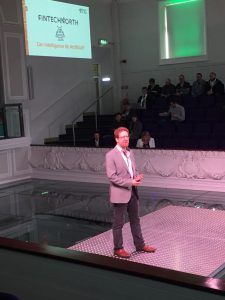 Stuart Sherman, Founder, IMC
Stuart flew in from Toronto to speak at FinTech North. His captivating speech began with some audience participation; he then went on to explain machine learning, and how machines can recognise patterns and be trained, before eventually training themselves. The founder of IMC also gave us an insight into chat bots, explaining the algorithms behind them and saying that they can deduce when to pass calls to real people. He highlighted the need to teach and set boundaries for machines, and also touched on the topic of neurolinguistics pattern matching before closing.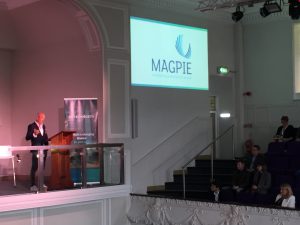 Stephen Kennedy, CEO, Magpie International
Stephen's presentation, titled Reimagining the Customer Journey from A to D, focused on the customers. He commented on the idea of combining various user interfaces, rather than each individual having numerous interfaces, each one holding the same data. Companies would then own an interface, rather than a bank or a company; like Airbnb.
Stephen also spoke about the topic of trust, and using data to enhance the relationship between company and customer, without breaking the latter's trust, a balancing act which involves both relevance of communication and permission granted.
He also mentioned the transition from analogue to digital, explaining the need for collaboration and partnerships; prioritising agile over waterfall decision making and underlining the importance of speed to market. He concluded by saying that digital distribution in financial services is happening, and will continue.
Laura Bailey, CEO, Zerado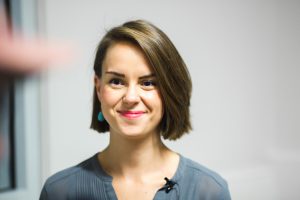 Laura introduced herself and company Zerado, a consultancy and product development company dedicated to blockchain technologies and their implementation. Citing statistics such as the average Londoner uses cryptography, often unknowingly, up to 1,000 times a day, Laura talked about the acceleration of financial technology, and cited the north of England as a driving force, commenting that the region is redefining the culture of FinTech with a more efficient ecosystem.
Game Changers Panel
The day drew to a close with a panel chaired by Stefan Haase, Director of Whitecap Consulting. He was joined by Professor Hussein Abdou, Stuart Sherman, Nick Williamson, CEO and Founder of Credits, and Stephen Kennedy. Stuart explained the need to offer consumers solutions that aren't too complicated or complex, and touched on his topic of AI and its ability to replace certain human elements of business. The issue of trust was once again raised, with Nick Williamson explaining that finance involves strategies for managing both trust and risk.
The Chairman's closing remarks from Dr. Chris Sier marked the official end of the programme. Speakers, participants and attendees took the opportunity to meet and network during the informal drinks reception that followed.
FinTech North 2017 was a great success. Thank you to everyone who was involved, as speakers, panel participants and attendees. We look forward to hosting FinTech North 2018!